Saturday 15th May 2021 (5pm)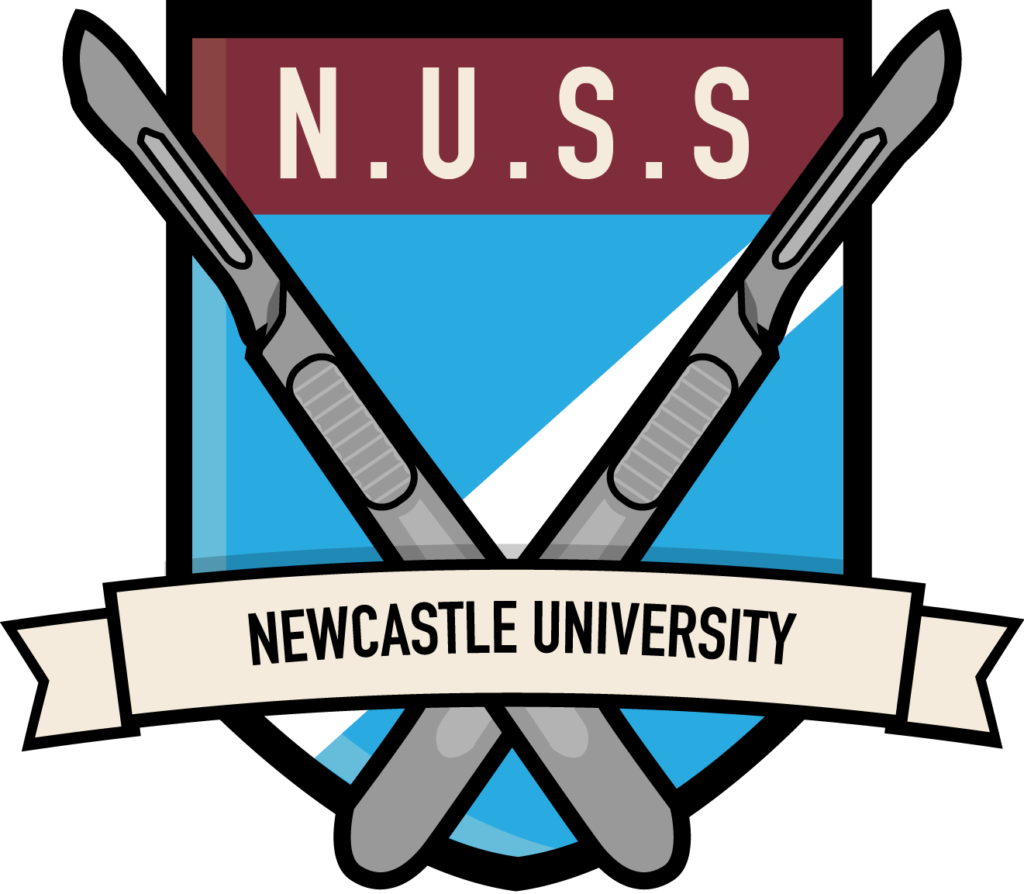 Newcastle University Surgical Society Committee 2021/2022
Dear All,
Newcastle University Surgical Society (NUSS) is one of the largest and most active medical societies at Newcastle University, with a rich history of providing extra opportunities to undergraduate and postgraduate students wishing to pursue a career in surgery. We are truly passionate about providing value to each and every one of our members, providing all NUSS members with equal opportunities to develop their surgical interest whilst still at medical school.
Please find the details of all of the roles available within our committee for prospective applicants below.
Whilst these define what is expected of you within your position, it is not an exhaustive list.
We are a fantastic society to be involved with as all committee members help and support each other throughout the year. We are looking for applicants who are not only dedicated to surgery, but who are also great team players and are keen to keep the legacy of NUSS alive, going from strength to strength into the next academic year and to continue to inspire the next generation of surgeons!
https://www.nusu.co.uk/getinvolved/societies/society/surgicalsociety/
*These roles are NEW positions within our upcoming committee.
*These roles are MODIFIED positions within our upcoming committee.
President
You will be the head of Newcastle University Surgical Society and oversee the entire society. This includes maintaining relations with the society's members, students' union, Newcastle University and other medical schools, local and national medical and surgical organisations (i.e. Royal College of Surgeons (Ed/Eng), NESTAC and any other relevant medical/surgical organisations. You must take overall responsibility for the organisation of meetings with the executive committee, and always look out for your committee members by delegating jobs where necessary to ensure deadlines are strictly met. You must act in the best interest of the society when making decisions and constantly work towards bettering the society in all aspects with the committee members. You will also oversee and assist the Events Officer/s and Skills Officer to organise the Annual Northern Undergraduate Surgical Conference.
**Prior experience of being on the surgical society committee is compulsory for this position**
*Joint applications are accepted
Vice-President
You are the second-in command, and will assist the President with all their duties and decision making if needed. You are also responsible for assuming the leadership role in the President's absence. The main responsibility of the vice-president is to organise our mentorship scheme. Such roles include recruitment of consultants and registrars as well as maintaining relationship with them through emails, assigning mentors to their respective mentees and overseeing the mentor-mentee relationship. In addition, you are responsible for co-managing links with local academic surgeons within the NETSAC research initiative to share research opportunities if they arise.
**Prior experience of being on the surgical society committee or any other society (managerial role) is desired (but not compulsory) for this position
Treasurer
The role of Treasurer involves looking after the Society's finances. You will be required to seek out sponsorship from various organisations and the student union to pay for events such as the Annual Northern Undergraduate Surgical Conference, talks/surgical skills session, and other relevant overheads i.e. logistical costs for guest speakers or equipment rent. The role involves frequent trips to the student's union to deposit reimbursement claims so a presence on campus (Newcastle) is required. You oversee our overall funds and so this role is best suited to someone who is organised and honest.
Secretary
You will be required to record minutes during official Surgical Society meetings and issue them to the committee meetings on time through email or archives. It is your job to manage the Society's email i.e. replying to university students' inquiries (i.e. regarding mailing list or membership), replying to companies, and conference events from other universities. If required, you are encouraged to notify other committee members regarding outstanding emails. You are also expected to assist the communication officer with answering inquiries by students on the society's Facebook messaging system.
Events Officer (x2)*
You will both be expected to work closely together to plan and organise events (e.g. Careers Roadshow) and collaborate with other committee members (talks, skills, anatomy) with regards to organising other events if needed. You will play a significant role in planning the National Northern Undergraduate Surgical Conference. This role requires a lot of organisation and networking (especially with RCSEng and local surgeons) so previous experience with planning conferences or events is desired, but not compulsory as you will have a supportive committee around you.
Talks Officer
You will be required to get in contact with surgeons in the local area and organise a talk session a month as well as other major events (Careers Roadshow and the Annual Northern Undergraduate Surgical Conference). Creativity is needed to think up of new talks to keep the members interested. Food and drinks are needed at each evening talk and this will be your responsibility to organise too.
Skills Officer
You will be required to organise a surgical skills event each month. You are expected to secure mentors for each session well in advance (minimum of 6 weeks-notice), book the rooms, and make sure that each event is well equipped with the relevant surgical tools (through the Anatomy Lab Director), suturing material (sponsors or hospitals) and meat (butcher). You are also required to think of ways to improve on each session and introduce new procedures to the society members so a creative mind and strong work-ethic will be much appreciated. In addition, you will also be assisting the President and Events officer with organising the Annual Northern Undergraduate Surgical Conference, particularly with the afternoon events. This role is demanding on both your time and creative skills but is just as rewarding.
Education Officer* (brand new position for 2021/22!)
This is a brand new position on our Committee this year. You will oversee the ScrubbEd weekly surgical teaching series throughout the year, ensuring delegation of tasks amongst the committee and ensuring that the sessions take place in a timely manner. You will be responsible for collaborating with other committee members and societies to run educational talks and events for members in the lead up to exams.
Anatomy & Autopsy Officer*
You will be required to organise two anatomy teaching sessions (Basic and Advanced) each month. These sessions will be themed around the different surgical specialities. You are also expected to secure mentors to assist you with teaching as well as collaborating with the Dissecting Room Team to secure cadavers and surgical tools.
You will oversee securing autopsy shadow opportunity with the different hospitals in Newcastle, Sunderland, Durham and organising the autopsy sessions for the members throughout the term. You must be organised and happy to contact the members of the society on a regular basis to advertise available spots.
Social Media & Publicity Officers (x2)*
This position replaces our Communications Officer – you will both oversee the social media accounts (Facebook, Twitter, Instagram) and our official website. Your main responsibility will include designing posters on Canva and assisting the team with advertising society events (skills, talks and anatomy teaching) as well as sharing information from other organisations like the Royal College of Surgeons. Alongside writing our newsletter 'The Cutting Edge', you should create promotional material to raise awareness of events. Photography skills (for social media) as well as experience with IT work is desired as we are planning to revamp our website.
Diversity & Welfare Officer*
Previously known as WinS officer, your main responsibilities will include ensuring all talks and events run by NUSS feature a diverse panel of surgeons wherever possible, raising the profile of under represented groups in surgery (e.g. WinS) amongst medical students. This can be achieved through sharing media (i.e. IG, Twitter or Facebook) to highlight inspiring work from female surgeons as well as collaborating with several related organisations such as the Royal College of Surgeons (i.e. WinS Network) to organise events in order to facilitate an increase in awareness and ensure that every candidate has an equal opportunity to succeed in surgery.  Over the past two years we have organised two highly successful women in surgery panels, which we would like to run next year also.
This student led role takes proactive measures to impact student welfare within their club, be that through providing drop in welfare sessions, signposting students to relevant support services, signing their club's Pledge Card, applying for Earn Your Stripes or being involved in a Campaign such as This Girl Can, Nutrition Week or Disability Awareness Week.
Tees Representative
Your responsibilities will be to raise the profile of Newcastle University Surgical Society within the Tees region and increase engagement with a group of students who largely feel forgotten about by societies. You will help to organise transport to large events, such as the conference and careers roadshow, and organise skills sessions and talks throughout the year. Important skills to have are; great communication with other committee members, independence to be able to work in a different region to most of the committee, current connections or expected connections to surgeons within the Tees region.
*This committee member should be based in Tees 
Past President
This role
---
If you would like to find out more about the roles (e.g. how things are like) you can contact us here:
Roles
Representative 2020/2021
Presidents
Alex Lea (a.lea@ncl.ac.uk)
Shiv Kolhe (s.kolhe@ncl.ac.uk)
Vice-President
Eli Eagles
(e.eagles@ncl.ac.uk)
Treasurer
Thejas K
(t.k2@ncl.ac.uk)
Secretary
Alfie Lee
(p.lee2@ncl.ac.uk)
Surgical Skills Officer
Jeremy Cheong
(j.cheong@ncl.ac.uk)
Events Officer
Ailey Zhao
(a.zhao1@ncl.ac.uk)
Anatomy Teaching Officer
James Bottomley (j.bottomley@ncl.ac.uk)
Talks Officer
Nasreen Akter
(n.akter@ncl.ac.uk)
Communications Officer
Bertie Harrington (b.harrington@ncl.ac.uk)
Autopsy Officer
Chad Dawson
(c.dawson5@ncl.ac.uk)
Women in Surgery & Welfare Officer
Sharlene Jaiswal
(s.jaiswal@ncl.ac.uk)
Tees Representative
Dinul Hettiarachchi (d.hettiarachchilage@ncl.ac.uk)
Alumni and Youth Engagement Officer
Timothy Chu